IRELAND may not have a National Grandparent's Day but it is a holiday marked by many countries around the world.
Held on different days by participating countries, the holiday is celebrated in America on the first Sunday after Labor Day.
The legislation was passed by Congress in 1978 and the proclamation signed by then-President Jimmy Carter.
To mark this year's event, which falls today, we've compiled some of our favourite and most memorable Irish grandparent stories…
Irish secret to long life
Earlier this year, a caring granddaughter appealed for birthday messages to be sent to her granny for her 107th birthday.
Covid had scuppered Nancy Stewart's plans to celebrate the landmark birthday in style, so granddaughter Louise had the idea of bringing the party to her.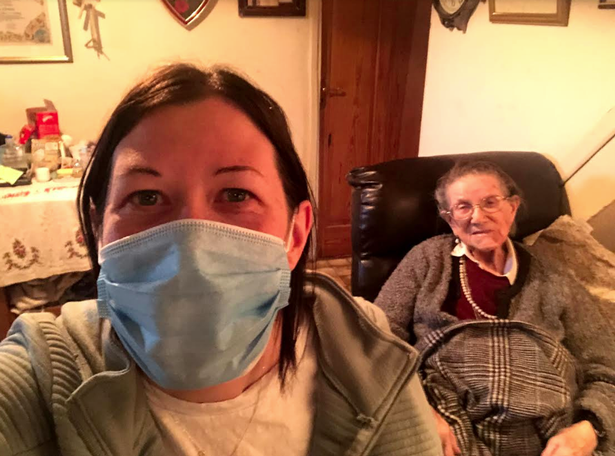 After being taken to the hearts of the public, Nancy sent a message of hope to the people of Ireland and shared the secret of her longevity — prayer, positivity and a proper diet, including regular Irish fry-ups!
Singing vaccine star
Whether it's a fear of needles or reluctance to be vaccinated, some people won't have had their Covid-19 jab yet.
There were no such fears for 102-year-old John Hegarty, however.
Earlier this year, the Donegal granddad treated staff at Glenties Primary Care Clinic in Co. Donegal to a rendition of the Wild Rover as he received his injection.
We have to agree, the Irish grandad was in fine voice!
Golf star's gran steals limelight
Shane Lowry became the toast of Ireland when he landed his first major at the 2019 Open at Portrush.
However his Claret Jug success was soon overshadowed when an interview with his granny went viral.
Revealing the stress of watching her grandson had saw her have a drink for the first time in 10 years, Emily Scanlon endeared herself to viewers with her humour and honesty.
Daniel's good deed
Irish icon Daniel O'Donnell has been a favourite of Irish mammies and grannies for years.
However one Irish granny was treated to an experience she'll never forget… thousands of feet in the air.
Go, Annie, it's your birthday! 🎂 pic.twitter.com/ChgURve6A6

— Aer Lingus (@AerLingus) September 5, 2018
Annie, a big Daniel O'Donnell fan, was traveling to Chicago in 2018 when the Donegal crooner sprang a surprise birthday serenade aboard the Aer Lingus flight.
After hanging up the intercom, O'Donnell embraced Annie as she was applauded by other passengers.
Window into the future
Grandparents love to dote on their grandchildren but Covid-19 restrictions meant families had to keep their distance during the pandemic.
However nothing would stop one Meath man from seeing his newborn grandson.
In March 2020, Michael Gallagher got to meet grandson Faolán, albeit separated by a pane of glass.
The image, which featured three generations of Irish men, went viral around the world.
Fortunately, Michael finally got to give his new grandson a hug 15 weeks later after restrictions were lifted.