AN EXTREMELY rare bottle of Irish whiskey is going up for sale with one hell of an asking price. 
The 16-year matured single malt whiskey from the George Roe distillery is no ordinary Irish tipple. 
Something of a memento from a bygone era, it is one of the last to be made at the once-famous distillery on Dublin's Thomas Street back in 1923. 
George Roe distillery operated for some 170 years prior to closing its doors. 
Nearly a century has passed since then, making this particular whiskey something rather special – to collectors, at least. 
Next Wednesday, August 12, they will get a chance to purchase it for themselves via Victor Mee Auctions. 
Originally intended to be sold at auction in the US, the current coronavirus pandemic has forced the sale online. 
There is sure to be plenty of interest though, with the whiskey estimated to fetch an eye-watering  €12,000 when it goes under the hammer at a virtual auction.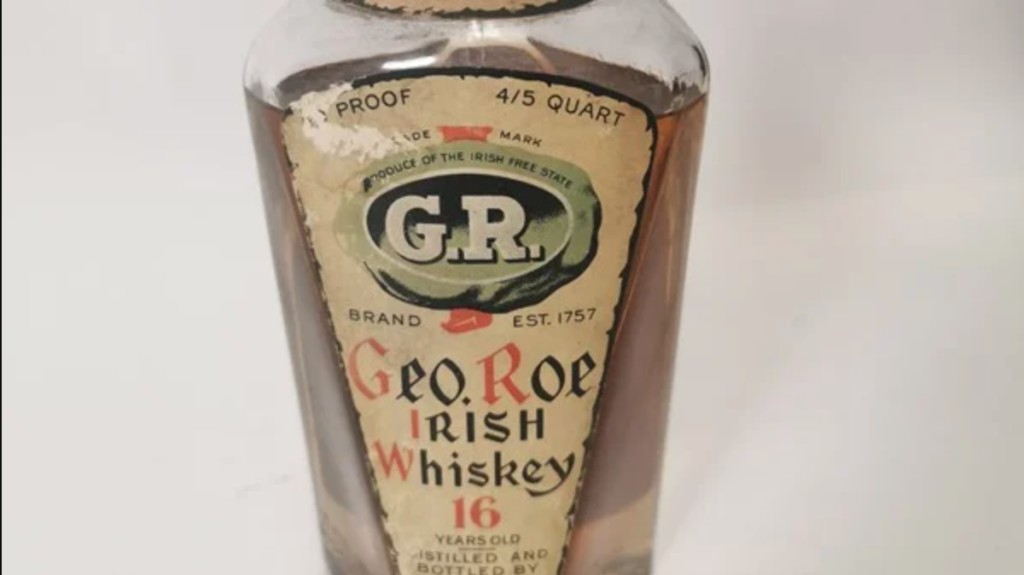 The 16-year matured single malt from the George Roe distillery is the standout lot in the auction of Irish pub memorabilia and collectables. 
Other highlight include a 1950s bottle of John Jameson Extra Quality Dublin Whiskey as well as a 19th century copper whiskey still. 
Both lots are estimated to attract bids of up to €1,200. 
Auctioneer Victor Mee said: "After a tough few months for our industry we are extremely happy to be hosting our first pub memorabilia sale of the year. 
"The rare lots set to appear in the auction have been handpicked by our specialist team and have been waiting in the wings ready to hit the auction block on 12th August." 
With historic whiskeys heading to the auction block, this is shaping up to be one sale to savour.