POLICE in Northern Ireland were forced to quell fears of an escaped leopard after a viral photograph sent locals into a frenzy.
Last week, a photograph which appeared to show a large spotted feline lying in the road sparked reports that there had been a breakout from Belfast Zoo.
At first glance, one could be forgiven for thinking a big cat had been snapped roaming the streets of Newtwonabbey, but the Police Service of Northern Ireland (PSNI) were quick to encourage people not to worry.
As it turns out, what was lying in the road was a leopard-print dressing gown, presumably lost by somebody's mam during a hasty school run.
The PSNI saw the funny side, thankfully.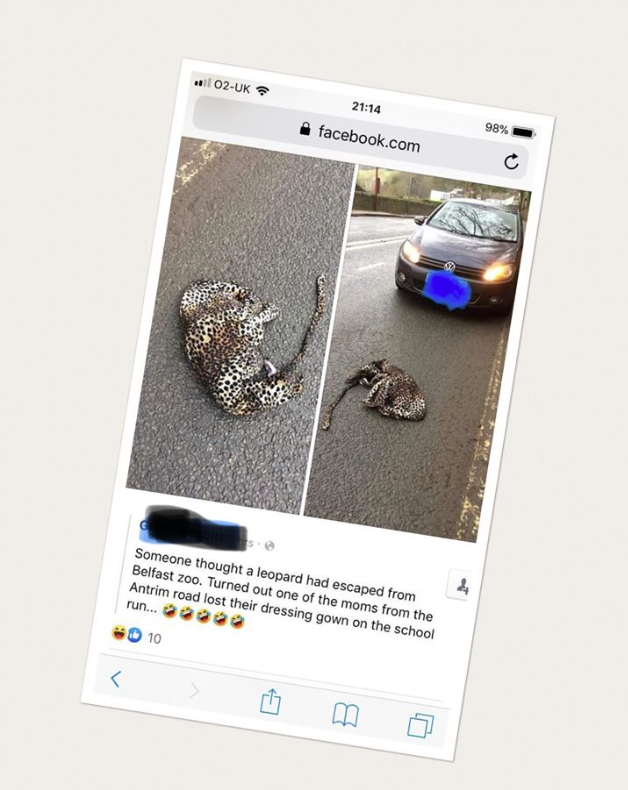 Advertisement
"Reports circulating on social media of a leopard escaping from Belfast Zoo are untrue but it did give us a bit of a chuckle when we saw this post," a PSNI spokesperson wrote on Facebook.
"Doing the school run in a hurry let's keep the speeds down."
You can understand why the gown might've scared people - the belt does look frighteningly like a tail given the way it's fallen.
And considering Belfast Zoo was just under two miles away from where the whiskered housecoat was spotted, it isn't the maddest conclusion for people to jump to.
At the end of the day, it's a lot safer to confuse a dressing gown with a leopard than it is to confuse a leopard with a dressing gown.