THE owner of a popular pub in Cork responded brilliantly to a visiting British group who left a negative review of the place on TripAdvisor.
Gallagher's Gastro pub on MacCurtain Street received the review from 'Michael' who visited in early December with a group from Liverpool.
He gave the place a 'terrible' rating, citing rude staff, overcooked food, poor quality wine and a "cranky old lady" who supposedly made a scene when they voiced their complaints.
However, owner Noreen Gannon was anticipating the review and had spent the time since their visit planning her counter-attack.
Needless to say she had a rather different account of what happened that evening.
She claimed her staff immediately flagged Michael's group as "rude and obnoxious" as soon as they walked in. She also rejected their claim that the wine was poor by asking them why they "ordered three more bottles".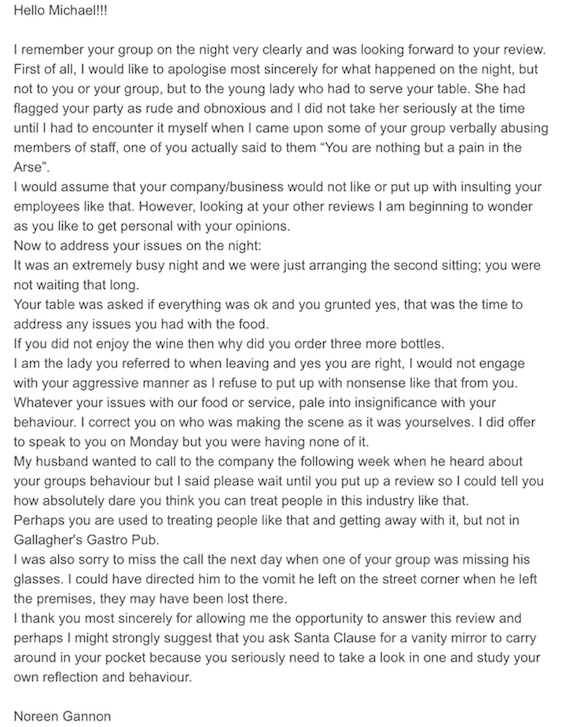 "I am the lady you referred to when leaving and yes you are right, I would not engage with your aggressive manner as I refuse to put up with nonsense like that from you," she wrote.
"Whatever your issues with our food or service, pale into insignificance with your behaviour. I correct you on who was making the scene as it was yourselves. I did offer to speak to you on Monday but you were having none of it."
Noreen added that the group told one of her members of staff that they were "nothing but a pain in the arse", before asking them "how dare you think you can treat people in the industry like that".
The review - and subsequent response - was posted just before Christmas, and Noreen takes one more delicious dig at the group by suggesting they ask Santy for a "vanity mirror" so they can reflect on their appalling behaviour.
*Yes, Noreen!