AN ELDERLY Irish man has appealed to the public for information in a desperate attempt to find his stolen dog.
85-year-old Mr Garrigan took to his Son Aidan's Facebook page to ask for help after his 12-year-old springer spaniel "Brandy" was taken by thieves from his home in Trim, Co. Meath.
The elderly farmer described Brandy as his "best friend" and said that he is "more than just a dog - he is my reason to get up in the morning."
Brandy has been missing since July 8, and Aidan admitted that his father "wasn't doing well" and was sick with worry.
The day before the dog was taken, there was an attempted break-in to the farm and it's thought the thieves spotted the dog and returned the following night to take him.
"All that matters is that I get him back," said the pensioner.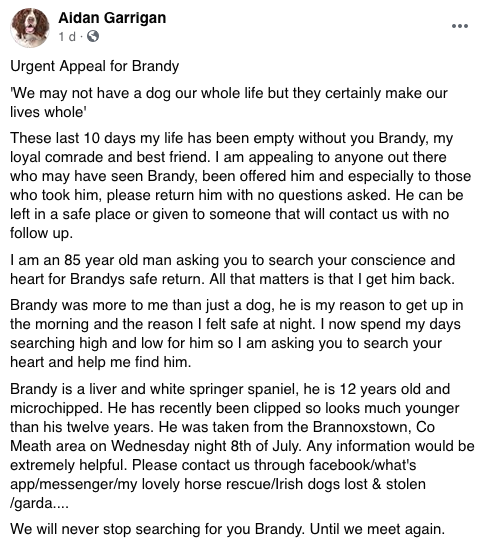 "Brandy was more to me than just a dog, he is my reason to get up in the morning and the reason I felt safe at night. I now spend my days searching high and low for him so I am asking you to search your heart and help me find him."
According to Aidan, Brandy was clipped by a car when he was a puppy and subsequently grew scared of venturing far from the house, so the chances of him simply having wandered off are slim.
"This is definitely not a case of Brandy going roaming - he has never done that in 12 years. He was stolen and Dad is just heartbroken," he said.
The family went on to urge anyone who may have bought a dog matching Brandy's description to return on him.
In response to the Facebook post, dozens of people have been in touch with information about a number of dogs resembling him, but he's yet to be found.
The theft comes amid a flurry of reports of stolen dogs in Ireland.
"We may not have a dog our whole life but they certainly make our lives whole," read the appeal.
We couldn't agree more.
For further information about the Facebook appeal, click here.