IRISH FARMERS converged on the streets of Dublin this morning to continue their protests over beef prices.
Commuters faced a tough journey to work this morning as around 400 tractors descended on the capital, with road closures coming into effect from 10am this morning.
It's expected that hundreds of farmers will drive their tractors to Merrion Square at 2pm this afternoon - before making their way to Leinster House.
Kildare Street, Molesworth Street and most of the roads around Merrion Square are set to close ahead of the protest.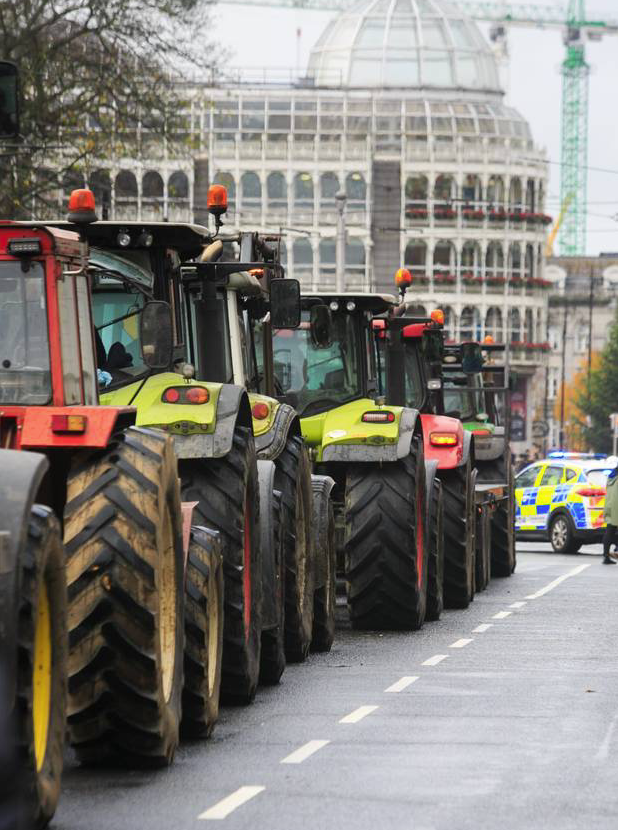 Advertisement
Delays are expected on some of the main routes into the city, including the N2, N3, N4, N7 and N81, from midday.
Gardai are advising commuters to use public transport as major disruption to traffic is expected all day.
"A large scale protest by members of the farming sector is expected to take place in Dublin City on Wednesday 15th January 2020, with around 400 tractors expected to converge on the city centre from all around Ireland from early afternoon," a garda spokesman said.
"Traffic delays are expected on the main arterial routes into Dublin City Centre (N2,N3,N4,N7 N81) from 12 noon when tractors start arriving.
"Bus corridors will not be impacted and Gardaí are advising commuters to avail of public transport where possible."
Some information on the planned farmer protest today. Please take note traffic will be disrupted around the city and the below road closures will come into affect at 10am. #dublin #traffic https://t.co/t6E7S4lYmU

— Dublin City Council (@DubCityCouncil) January 15, 2020
Advertisement
The protests follow on from a number of tractor blockades staged at various supermarket distribution centres around the country in December and November last year.
Irish farmers are demanding an increase in price for their beef, and are critical of the deal arranged with the government last year following weeks of demonstrations by farmer last summer.
Rallying farmers around the country to the cause, the organisers of the protests said:
"We are asking all farmers and rural people to join us in Dublin on the 15/16 to stand up for both rural Ireland and the agricultural industry as the very fabric of rural Ireland is at stake."
Organiser Daniel Long said they have strong support, even though the Dáil was dissolved yesterday.
He argued: "[People] are coming from all corners of the country.
"There's tractors coming, there's people on foot... rural people in general are coming to the city. Hopefully, the more that come maybe the louder the voice will be  - and maybe we'll be heard this time."
Advertisement